Spectra Group Launches STOCS
Spectra Group (UK) Ltd, world-leading provider of high-grade information security and communication capabilities, has announced the addition of a new product to their portfolio: the SlingShot Tactical Operations Centre System (STOCS). Spectra's STOCS adds additional capability and operability to the already hugely successful SlingShot tactical satellite communications system
STOCS is a specially designed and modified version of SlingShot that allows the user to communicate beyond line of sight (BLOS) while being up to 35 meters from the antenna. Because it operates on L-Band, the current configuration limits the current SlingShot system to being operated at a remote distance of  up to 10 meters (depending on system type) from the antenna, which in most operational scenarios is sufficient, for example, in a vehicle or when dismounted. However, in response to customer requests,  the new STOCS variant of SlingShot enables the user to now operate in more enclosed locations such as a command HQ, a tactical operations room, any type of building, a protected bunker or when dug in. In all scenarios, by placing the antenna away from the operator they can remain in cover whilst still effectively communicating via the satellite. The STOCS hardware has been ruggedised and weatherproofed (IP67) to enable the user to leave it in a more exposed position, such as a rooftop, without any risk to the electronics.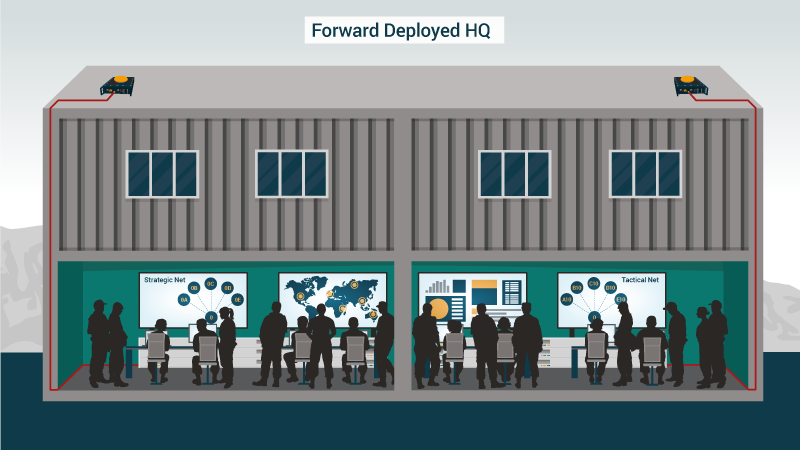 In April 2019, Spectra's SlingShot was awarded the prestigious Queen's Award for Enterprise for Innovation. SlingShot is a unique, lightweight system that enables existing, in-service tactical military and commercial VHF/UHF radios to utilise commercial L-band satellite coverage (COMSATCOM). The technology delivers Beyond Line of Sight (BLOS) Comms on the Move (COTM) with low-latency voice and data connectivity to radio networks for ground, vehicle, maritime and airborne platforms.  SlingShot's unique capability provides reliable, secure communications between widely dispersed military forces and/or civilian agencies operating in austere and hostile environments, without the cost, delay or logistical challenges of deploying additional infrastructure. Over 3500 SlingShot systems are in operation worldwide in the Manpack, Vehicle, Maritime and Aviation variants. Spectra Group's new STOCS now adds further capability for existing and future users of the wider SlingShot system.
Simon Davies, CEO of Spectra Group said: "the launch of the new STOCS product enhances our offering and adds significant additional capability to the user. Effective communication is a fundamental part of command and control centre operations so being able to use SlingShot in these scenarios is a game changer for global special forces and other defence and security units or organisations". He added: "here at Spectra Group we're very focused on innovation and we're constantly working to evolve and enhance our product and service offering. The addition of STOCS to our product line is a great example of that. We've listened to what our customers need and developed STOCS to deliver the required capability enhancements".