SlingShot is a lightweight unit that converts existing tactical radios to TacSat, maintaining real-time BLOS comms in all situations and locations.
Providing low-latency voice and data connectivity to tactical radio networks and utilising L-TAC, Inmarsat's I-4 L-band network, SlingShot delivers Beyond Line of Sight communications to users of UHF and VHF radios.
Designed to support in-service radios
Supports UHF & VHF military and commercial frequencies
Omni-directional antennas
Utilises Narrow Beams, Customised Beams and Relocatable Beams
Flexible Airtime Leasing according to requirement
There are SlingShot options for Aviation, when on foot (SlingShot Manpack), in a land-based vehicle (SlingShot Vehicle) or on water (SlingShot Maritime).
SlingShot Aviation Antenna
SlingShot Aviation Walk-on Fit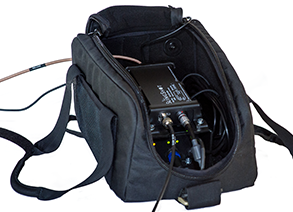 Access to military airframes can be limited and there are often times when aircraft of opportunity are leased from commercial providers to support a mission.
In either situation Spectra's aviation solution allows end users to continue mission planning and communicate over strategic and tactical distances.
If military fixed or rotary wing aircraft are available the aviation antenna can be permanently installed ready to be utilised when passengers embark. For example, users operating with a Manpack system can unplug from the Manpack antenna and plug straight into the aircraft fit. Alternatively, the walk-on-bag can be used to if the radio operator does not permanently carry a SlingShot system.
Download the SlingShot Aviation Capability Brochure
For more information on each SlingShot system, choose the appropriate image below